The rapidly evolving digital landscape has altered the way businesses operate, creating new challenges and opportunities. In order to stay relevant in today's fast-paced world, organizations must adapt to the changing environment by adopting digital transformation. This process involves integrating digital technologies into all aspects of the business, allowing for seamless and efficient delivery of value to stakeholders.
In this article, we will explore why digital transformation is essential for businesses, focusing on five key benefits: enhancing customer experiences, increasing operational efficiency, fostering innovation, improving decision-making, and ensuring business continuity.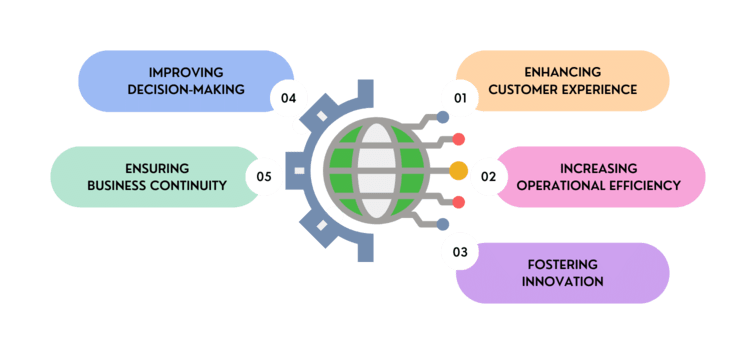 Enhancing Customer Experience
Providing exceptional customer experience is one of the most significant benefits of digital transformation. With the advancement of technology and rise of digital platforms, customers now expect easy access to information, personalized interactions, and seamless experiences from businesses. Organizations can cater to these expectations by leveraging digital technologies, leading to improved customer satisfaction and loyalty.
Digital transformation allows organizations to gather valuable customer data, which can be used to create targeted marketing campaigns, tailor products and services to individual needs, and deliver personalized customer support. Additionally, businesses can automate customer service processes, reducing response times and ensuring a consistent, high-quality experience.
Increasing Operational Efficiency
Businesses can utilize digital transformation to reduce costs and improve productivity, by automating manual processes and leveraging data-driven insights. Automation of routine tasks frees up time for employees to focus on more strategic and creative work, ultimately increasing their overall efficiency. Furthermore, digital tools can optimize workflows, enabling businesses to identify bottlenecks and streamline operations.
Digital transformation also enables organizations to collect and analyze vast amounts of data, which can be used by management and teams to make more informed decisions and optimize performance across various departments. This data-driven approach allows organizations to identify trends, uncover operational inefficiencies, and allocate resources more effectively, leading to increased profitability and growth.
Improving Decision-Making
Access to real-time data and advanced analytics is a key benefit of digital transformation, enabling better decision-making and more informed strategic planning by management. Organizations can leverage data analytics tools to quickly identify patterns and trends, enabling them to make data-driven decisions that align with their overall business goals.
Digital transformation also facilitates more effective communication and collaboration within the organization, allowing stakeholders to make more informed decisions collectively. This improved decision-making process can result in better financial performance, increased competitiveness, and a more organizational agility.
Ensuring Business Continuity
In an increasingly volatile and unpredictable business climate, digital transformation can play a crucial role in ensuring business continuity. Organizations can leverage digital tools and technologies to build more resilient and adaptable systems, better equipped to handle unforeseen challenges and disruptions.
Digital transformation allows businesses to quickly pivot in response to changing market conditions or external factors, such as economic downturns, supply chain disruptions, or even global pandemics. During the global pandemic of 2020 for example, organizations leveraged cloud-based solutions and technologies to remain operational and perform optimally even in the face of adversity, ensuring minimal downtime and safeguarding their reputation.
Moreover, digital transformation helps organizations implement robust cybersecurity measures, protecting their valuable data and intellectual property from cyber threats. This is particularly important as cyberattacks become more sophisticated and prevalent, posing a significant risk to businesses worldwide.
Summary
The importance of embracing digital transformation cannot be overstated in today's business climate.
At 160Bits, our team of experts works closely with you to identify your business goals and specific requirements, develops a customized digital transformation strategy, and provides support throughout the implementation process to unlock the full potential of your business.
Take the first step towards success by partnering with 160Bits. Contact us today to learn more about how our innovative solutions and services can drive your digital transformation journey and empower your business to thrive.